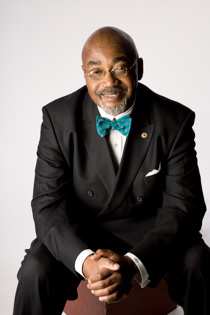 "I help leaders fall in love with being human!"
Gerald (Gerry) Bouey began his impressive career with key positions within a large financial service organization over the span of 40 years. He served as a Senior Manager in Operations, Client Service, Quality, and Learning & Development during his tenure. Gerry has effectively led groups as large as 350 associates, to that of an individual contributor, responsible for corporate-wide change initiatives. Gerry has held positions as a consultant, executive coach, strategist, over past 15 years. He has facilitated change initiatives, quality programs, customer satisfaction initiatives, team-building workshops, diversity and inclusion interventions, and had been sought out internally and externally for his insights.
In 2003, Gerry launched To Be Great Leadership Consulting, LLC, driven to do so by his commitment to human potential and the encouragement from his many coaching/consulting clients. As an internal leadership consultant, Gerry utilized his unique skills in the domain of transformation helping individuals leverage more of their potential.
Whether he working with individuals, groups, teams, or large organizations the focus is always around "breakthrough" from an inside-out perspective. In 2008, Gerry left the corporate setting to pursue his dream of "...igniting human potential through the heliotropic energy of LOVE, with clients and organizations on a full-time basis.
Gerry is certified in a variety of psychometric instruments, which he uses in his coaching practice, and in several organizational leadership developmental programs. Gerry also has a certification in Business Management and is trained in a number of leadership, quality, and client relationship curriculums. He earned his bachelor's degree in Community Studies and a Master's degree in Organizational Leadership from Lewis University. Gerry earned a Ph.D., in Organizational Leadership, Learning, and Service from Cardinal Stritch University. His seminal topic was, "The Phenomena of Producing, Accumulating and Distributing Love at Work".
Gerry's claim to fame is that he loves people and teaching! He holds down Adjunct positions at Roosevelt University and Lewis University, focusing on Organizational Leadership and Positive Invented Leadership using the latest research in Positive Psychology. Gerry resides in the Chicago area with his wife Constance. He has four adult children, Gerald II, Andre, Aaron, and Brittney, and two stepdaughters, Natalie and Arthea. Together Gerry and Constance have seven grandchildren.
Client Considerations: My practice (metaphorically) offers "heart surgery" NOT "heart scans." My approach is not based on developmental commodities, "buy one, get one free coupon." Reinvention is very difficult and not meant for everyone. It requires strong commitment, intentionality, and deliberate practice.
At its core, my leadership developmental process is to facilitate and maximize the client's "best possible self." Essentially offering the latest strategies on human performance, allowing the client to strive, and thrive within their highest potential, using tools which ignite an intense focus on building extraordinary relationships, mutual trust, "extreme" productivity, commitment and accountability.